At The WarmFront Team we believe in doing a job properly and doing it well. That means using the right tools and the right qualified and experienced personnel
Get the best
Technical Survey
Before starting work one of our technical surveyors will check the condition of the walls and insulation. They will take note of any health and safety issues, such as debris in the wall, and determine the type and condition of the insulation. This will enable us to provide a good estimate of the time it will take to extract the insulation.
The Right Tools for the Job
We use a specialist InstaVac system designed specifically for the purpose of efficiently and effectively removing insulation. This is powerful enough to remove insulation even from blocks of flats.
This system enables us to force compressed air into the cavity, which has the effect of drying the insulation and forcing it down to the powerful suction machine below.
The Right People for the Job
Our specialist cavity wall extraction teams are trained by the system manufacturer to ensure they know how to use the machinery correctly. It is very important to remove every scrap of insulation, and the job takes 2–3 days for most properties.
Replacing Old Insulation with New
When the walls have dried out it is safe to install the new insulation. Great improvements have been made in recent years in insulation material technology. The new insulation is not only likely to be better at keeping warmth in the home, but is better at repelling moisture.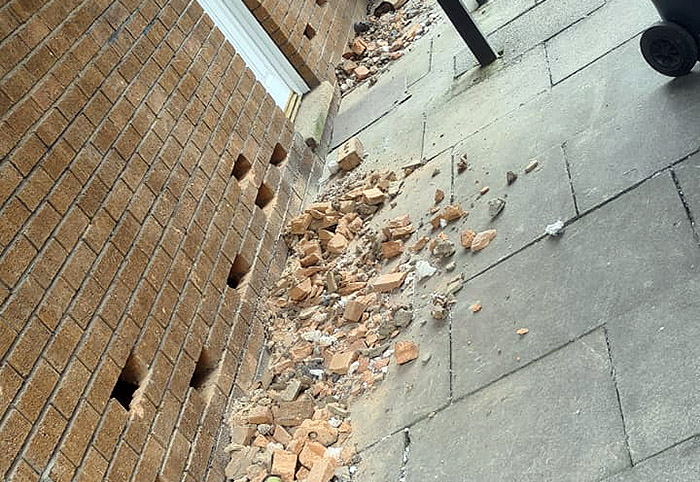 Work with professionals
There is more to extracting insulation than some people think
Since the flooding that affected many parts of the country in early 2014 we have been shocked at some of the efforts we have seen to extract insulation from walls.
We have seen people removing bricks and ramming metal rods into the wall in a desperate attempt to dislodge and remove insulation by hand. Some people used compressed air to help force the insulation down the wall – then remove it by hand. We refer to those who employ these 'cheap' methods as the 'coat hanger brigade'.
The fact is that removing insulation is a dirty, time consuming and costly process. The coat hanger brigade will rarely succeed in removing all insulation. If patches of old insulation are left in the walls there is a risk of localised damp problems occurring in the future, and the mix of old and new insulation is never good.
Peace of Mind
We only use machinery that is specially designed for the job, with staff who have been trained by the manufacturer to operate it properly. Your peace of mind is important to us.